Nafisat Abdullahi: Biography, Age, Career, Family And Movies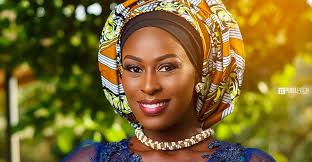 Nafisat Abdulrahman Abdullahi also known as Nafisat Abdullahi (born 23 January 1991), is a Nigerian actress from Jos, in Plateau State. She received a City People Entertainment Award in 2013 for Best Actress and a Kannywood Award in 2014 for Best Kannywood Actress, Popular Choice Award. Her film career began at the age of 19 followed by her first leading role in a major film, Sai Wata Rana in 2010 produced by FKD Production and directed by Ali Nuhu.
In 2012, Nafisat appeared in Blood and Henna, a Nigerian film directed by Kenneth Gyang alongside Ali Nuhu and Sadiq Sani Sadiq and went on to receive 6 nominations at the 9th Africa Movie Academy Awards and won Best Costume Design. She starred in the hit movie, Lamiraj which won her Best Actress in 2013 and blog buster film, 'Ya Daga Allah in 2014 both directed by Aminu Saira.
Early life and family
Born in Jos, the capital city of Plateau State, Nigeria, Nafisat is the fourth daughter of Abdulrahman Abdullahi who is an automobile dealer and an elder statesman. She attended Air Force Private School in Jos and upon moving to the Federal Capital Territory, she proceeded to Government Girl Secondary School, Dutse, Abuja. As a teenager, she joined the Kannywood movie industry where she began her career under FKD Production with Ali Nuhu as her first-ever mentor.
Career
She began her movie career at the age of 19 with FKD Production as her first movie production company where he first appeared in Sai Wata Rana in 2010 produced and directed by award-winning actor, Ali Nuhu. Nafisat began her professional film career in early 2010 when she played her first leading role in Sai Wata Rana as a leading actress. Her appearances in Alhini and Marainiya in 2012 moved Nafisat's career to a new level as the two movies were one of the highest-grossing films of all time.
In 2013, she attended Berlin International Film Festival as one of the only two attendees from Nigeria alongside a Nollywood cinematographer. In June 2013, she was suspended by a disciplinary committee of Arewa Filmmakers Association of Nigeria for failing to appear before the committee after being summoned for organizing a banned event by the followers of the Hausa movie industry. She was handed two years suspension by the disciplinary committee which was lifted in August 2013 before she went on to star in Aminu Saira's Kalamu Wahid and 'Ya Daga Allah in 2014.
Filmography
Nafisat has acted in numerous Hausa films, amongst them are;
Ummi
Zango
Ya daga Allah
Yar Agadez
Addini ko Al'Ada
Ahlul Kitab
Alkawarina
Alhaki Kwikwiyo
Alhini
Allo (film)
Auren Tagwaye
Baban Sadik
Badi Ba Rai
Ban Kasheta Ba
Blood and Henna
Cikin Waye?
Dan Almajiri
Dan Marayan Zaki
Dare
Dawo Dawo
Farar Saka
Fataken Dare
Gabar Cikin Gida
Haaja
Har Abada
Jari Hujja
Laifin Dadi
Lamiraj
Madubin Dubawa
Guguwar So
Baiwar Allah
Awards
| Year | Award | Category | Film | Result |
| --- | --- | --- | --- | --- |
| 2013 | City People Entertainment Award | Best Actress of the Year (Kannywood) | Ya Daga Allah | Won |
| 2014 | City People Entertainment Award | Best Actress of the Year (Kannywood) | Special Awards | Nominated |
| 2014 | 1st Kannywood Awards | Best Kannywood Actress (Popular Choice Award) | Dan Marayan Zaki | Won |
| 2014 | AMMA Awards | Best Actress of the Year | Dan Marayan Zaki | Won |
| 2015 | City People Entertainment Award | Best Actress of the Year (Kannywood) | Special Awards | Nominated |
| 2015 | 2nd Kannywood Awards | Best Kannywood Actress | Special Awards | Won |
| 2016 | City People Entertainment Award | Best Actress of the Year (Kannywood) | Special Awards | Won |
| 2016 | AMMA Awards | Best Actress of the Year | Da'iman | Won |
| 2016 | 3rd Kannywood Awards | Best Kannywood Actress | Baiwar Allah | Won |