Alex Ekubo: Biography, Age, Movies, Family & Career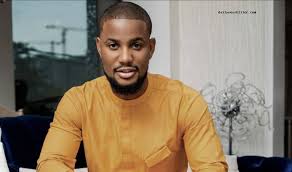 Alex Ekubo is one of the popular Nollywood actors. He is also a model and a former Mr Nigeria contestant. The actor identifies himself with the nickname, "Ikuku the Breeze."
Ekubo is popular for his role in the MNET TV Series where he plays a bartender who goes by the name, Edet.
In this post, we take a look at the life, career and movies of this handsome Nollywood actor plus many other things you didn't know about him.
Early life
Alex Ekubo was born Alex Ekubo-Okwaraeke on the 10th of April 1986. Ekubo hails from Arochukwu in Abia State.
Education
Ekubo attended the Federal Government College Daura in Katsina State before proceeding to the Calabar Polytechnic when he bagged a diploma in Mass Communication.
Ekubo would later enrol at the University of Calabar where he studied law.
Career
He was first runner up at the 2010 Mr Nigeria contest. His movie debut was in the movie, Sinners in the House. The movie was produced by Lancelot Oduwa Imasuen.
The actor landed his first major role when he featured in the movie, Ladies Men.
Movies
Currently, Alex Ekubo features in the MNET Series, Tinsel. He has also featured in TV series like:
Secrets & Scandals
Hope Bay
Happy Family
Tinsel
AY's Crib
Married to the Game
Also, Ekubo has starred in over 50 movies since he debuted as an actor. Some of these include:
ATM (2016)
A Man For The Weekend (2017)
Aina (2011)
All that Glitters
Champagne (2014)
Death Toll (2015)
Diary of a Lagos Girl
Dream Walker
Gbomo Gbomo Express (2015)
Gold Diggin
Ifedolapo (2014)
In the Cupboard
Keeping my Man
Lagos Cougars
Single, Married and Complicated (2014)
The Other Side of the Coin (2016)
True Citizens
Undercover Lover
Weekend Getaway
Zero Hour (2018)
Recently, Alex Ekubo featured in the movie, Zero Hour where he acted alongside Richard Mofe Damijo, Ene Oloja and Rahama Sadau.
The movie was produced by Rogers Ofime. He is also the producer of the popular series, Tinsel.
In the movie, Ekubo played the role of Zamani and the actor revealed this was the first movie he would be shooting in the Northern part of Nigeria.
Zero Hour is directed by Roberts Peter. Peter is a notable director with projects like 30 Days in Atlanta and A Trip to Jamaica.
Awards
The actor has won several awards since he debuted as an actor and some of these awards include:
Most Promising Actor at the 2012 Best of Nollywood Awards for his role in the movie, In The Cupboard
Best Supporting Actor at the 2013 Golden Icons Academy Movie Awards for his role in the movie, Weekend Getaway
Best Supporting Actor at the Best of Nollywood Awards
Favourite Male Emerging Screen Talent (African) at the 2014 Screen Nation Awards
AlexEkubbo Wives Association
Ekubo is obviously a ladies man due to his stunning look. He has a lot of female admirers on his social media handle and this has led him into tagging this bunch of fans as the 'AlexEkubbo Wives Association.
According to Ekubo, these fans have been his supporters from day one and he holds all of them in high esteem.
As a matter of fact, Ekubo has disclosed that his wife must acknowledge the AlexEkuboWives Association because they are very important to him.
Personal life
Recently, there were reports that Ekubo is dating model Fancy Acholonu. The pair were said to have met in 2016 and the actor appears to be considering marriage with the pretty model.
Ekubo has revealed that he has had his own share of heartbreaks. This is quite interesting considering how handsome the actor is. According to him, some of these heartbreaks have been quite painful. He disclosed that there was a particular heartbreak that left him crying for days.
Ideal Woman
The actor recently revealed a list of the things he wants his future wife to possess. He disclosed that she must be a very good kisser and very intelligent.
Ekubo also disclosed that his future wife must love Jesus sincerely and she must be a good cook because he loves food.
The actor also included a unique sense of humour as another important quality for him.
Entertainment industry
In a recent interview, Ekubo solicited government support with regards to the entertainment industry.
According to the actor, the Federal Government should have a definite annual budget for the entertainment sector, particularly with music and movies.
The actor pointed to the growth of movie industries like Hollywood being associated with the support of the government, corporations and well-meaning individuals.
Ekubo also revealed that movie making comes with peculiar challenges especially for producer that look to release movies of world-class quality. Unfortunately, the paucity of funds has affected the proliferation of this type of world-class movies. The actor believes Nollywood can move from the third largest movie industry in the world to first or second if more investors and corporate bodies support the industry.
Uti Nwachukwu
Due to the frequency with which Ekubo accompanied fellow actor and model, Uti Nwachukwu, rumours began to brew that the couple were gay partners.
And this was worsened by the fact that both actors had never been known to be dating any recognizable female.
Nwachukwu has since rebuffed such claims. He revealed that he was just trying to give the budding actor the necessary exposure he needed to boost his career.
He further disclosed that they both like women so being gay isn't an option for either of them.
Yomi Casual
Ekubo recently took a dig at Yomi Casual where he likened the designer's dark skin to the blackness of six people.
It seemed like a playful dig as Yomi Casual and his brother AY Makun responded with a message that they will deal with the actor on a later date.
Hobbies
Ekubo enjoys travelling. He is also a lover of food. The actor also loves exotic cars. He recently customized his 2012 Chevrolet Camaro Sport Convertible.