Ramsey Nouah: All You Need To Know About Him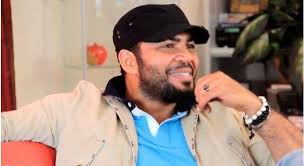 Full Name: Ramsey Tokunbo Nouah Jr.
Stage Name: Ramsey Nouah
Date of Birth: 19, December 1970.
Place of Birth: Edo State, Nigeria.
Ethnicity: Yoruba.
Nationality: Nigerian
Education: University of Lagos
Marital Status: Married
Spouse(s): Emelia Philips-Nouah.
Occupation: Actor.
Facebook: ramseyofficial
Twitter: @ramseynouah
Instagram: @ramseynouah
Ramsey Tokunbo Nouah Jr was born on the 19th of December 1970. Ramsey Noah is a household name in every home in Nigeria, he is an actor with Nigerian film industry Nollywood.
Ramsey Tokunbo Nouah has starred in over 100 movies to his credit and had gone ahead to win numerous award amongst them In 2010 when he won "Africa Movie Academy Award" for being the Best Lead actor.
Ramsey Tokunbo Nouah 's Early life
Ramsey Tokunbo Nouah Jr was born to an Israeli father, his mother is of Yoruba tribe who hails from Owo in Ondo State, South West, Nigeria. Although he was born in Edo state, he, however, grew up on the street of Surulere, Lagos, Nigeria. Ramsey Nouah Lagos attended the Atara Primary Schools and he did his secondary school at the Community Grammar School in Lagos, he, however, had his University education at the University of Lagos, as he graduated with a mass communication degree.
Career In Nollywood
Ramsey Nouah came into limelight when he starred in the Nigerian popular TV soap opera titled "Fortunes". Mr Nouah since his introduction into the Movie Industry through the popular Soapy has then appeared in other films starring mainly as lead actor. Ramsey Tokunbo Nouah is known for his numerous romantic flicks, this made his fans to give him the title "Lover-Boy".
Awards
For his hard work and commitment in the movie industry Ramsey Tokunbo Nouah was in 2010 give the "African Movie Academy Award for Best Actor" that's for his Lead Role performance and also the "Best Picture award-winning film" for "The Figurine". Till today, Ramsey Nouah is still considered one of the most sought after actors in the Nigeria movie industry (Nollywood).
Marriage and Personal Life
Ramsey Nouah married his long-time heartthrob Emelia Philips Nouah and the union is blessed with three children, two sons and then a daughter, Quincy Camil Nouah, Desiree Nouah and then the last boy.