Nkem Owoh: All You Need To Know About Him
Full Name: Nkem Owoh
Stage Name: Osufia
Nationality: Nigerian
Marriage status: Married.
Spouse: Chinwe Owoh
Languages: Igbo, English.
Education: University of Ilorin.
Occupation: Actor.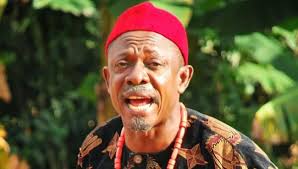 Nkem Owoh is a popular Nigerian actor and comedian. He was born in Enugu Nigeria. After his primary and secondary school, he headed to the University of Ilorin and studied engineering. Meanwhile, during his university studies, Owoh began acting in various television and film productions.
Owoh starred in the 2003 film Osuofia in London. He is also known for performing the song "I Go Chop Your Dollar" about advance fee fraud. The song was featured in the film The Master in which Owoh plays a scammer. The Economic and Financial Crimes Commission and the Nigerian Broadcasting Commission banned the song.
In 2007 Owoh was arrested in Amsterdam, Netherlands (Bijlmermeer neighbourhood in the Amsterdam Zuidoost borough) as the result of a 7-month investigation by the Dutch police dubbed "Operation Apollo".Owoh was arrested while performing a musical show when the police raided the event and arrested 111 people on suspicion of lottery fraud and immigration violations. Owoh was later released.
In November 2009 Owoh was kidnapped in eastern Nigeria. His kidnappers demanded a 15 million naira ransom. Owoh was released after his family members allegedly paid a ransom fee of 1.4 million naira. Nkem Owoh has featured in several films mainly Nigerian Comedy, the most outstanding being "Osuofia in London". In 2008, he won the best actor in a lead role at the African Movie Academy Awards.
Shattered Mirror (Video)
2012 Shattered Mirror 2 (Video)
2009 Forgive Me Father (Video)
John Bosco
2008 His Holiness (Video)
2008 His Holiness 2 (Video)
2008 His Last Action (Video)
2008 His Last Action 2 (Video)
2008 Osuofia and the Wise Men (Video)
Osuofia
2008 Osuofia and the Wise Men 2 (Video)
Osuofia
2008 Wonderful Man (Video)
2008 Wonderful Man 2 (Video)
2007 Battle of Indemnity (Video)
Egbentu
2007 Battle of Indemnity 2 (Video)
Egbentu
2007 Covenant Keeping God (Video)
Samuel
2007 Covenant Keeping God 2 (Video)
Samuel
2007 De prof (Video)
2007 De prof 2 (Video)
2007 Johnbull & Rosekate (Video) Johnbull
2007 Johnbull & Rosekate 2 (Video)
Johnbull
2007 Persecution (Video)
2007 Persecution 2 (Video)
2007 Stronger Than Pain (Video)
Ulonna
2007 Stronger Than Pain 2 (Video)
Ulonna
2006 A Fool at 40 (Video)
Hygenius
2006 A Fool at 40 2 (Video)
Hygenius
2006 Captain (Video)
2006 Captain 2 (Video)
2006 Captain 3 (Video)
2006 Foreign Base (Video)
2006 Indemnity (Video)
Egbentu
2006 Indemnity 2 (Video)
Egbentu
2006 Made in Cambridge (Video)
2006 Made in Cambridge 2 (Video)
2006 My Kingdom Come (Video)
2006 My Kingdom Come 2 (Video)
2006 My Kingdom Come 3 (Video)
2006 The Barrister (Video)
Athanasius
2006 The Barrister 2 (Video)
Athanasius
2006 The Dreamer (Video)
2006 The Dreamer 2 (Video)
2006 The Dreamer 3 (Video)
2005 Akanchawa (Video)
2005 Akanchawa: Final Part (Video)
2005 Akanchawa 2 (Video)
2005 Bus Driver (Video)
2005 Bus Driver 2 (Video)
2005 The Prince (Video)
2005 The Prince 2 (Video)
2004 America Visa (Video)
2004 America Visa 2 (Video)
2004 My Driver (Video)
2004 My Driver 2 (Video)
2004 My Own Share (Video)
2004 My Own Share 2 (Video)
2004 Osuofia in London 2 (Video)
2004 Spanner 3 (Video)
2004 Spanner Goes to Jail (Video)
2003 Anunuebe (Video)
2003 Anunuebe 2 (Video)
2003 King of the Forest (Video)
2003 Lion Finger (Video)
2003 Lion Finger 2 (Video)
2003 Mr. Trouble (Video)
2003 Mr. Trouble 2 (Video)
2003 Osuofia In London (Video)
2003 Police Recruit (Video)
2002 Fake Doctor (Video)
2002 Fake Doctor 2 (Video)
Dr Zebedi
2002 Ifeonye metalu (Video)
2002 Long John (Video)
2002 Long John 2 (Video)
2002 Police Officer (Video)
2002 Spanner (Video)
2002 Spanner 2 (Video)
2001 Onye-Eze (Video)
Onye-Eze
2001 Onye-Eze 2 (Video)
1999 Big Man… Big Trouble (Video)
1999 Conspiracy (Video)
1999 Conspiracy 2 (Video)
1995 Rattle Snake (Video)
1995 Rattle Snake 2 (Video)
1995 Ukwa (Video)
1995 Ukwa 2 (Video)
1987 Things Fall Apart (TV Series)