Christy Essien-Igbokwe: Biography, Age, Career, Family And Movies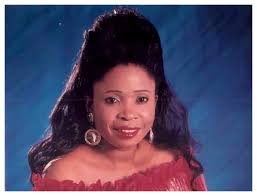 Christy Uduak Essien-Igbokwe MFR (11 November 1960 – 30 June 2011) was a Nigerian musician and actress. In her lifetime, she was sometimes called Nigeria's Lady of Songs and was known for her song "Seun Rere". She was the first female president of the Performing Musicians Association of Nigeria (PMAN). She was also the chairwoman and managing director of Soul Train entertainment limited.
Essien-Igbokwe sang her songs in Igbo, Ibibio, Efik, Hausa, Yoruba as well as in English. Essien's fluency in Igbo, Hausa, Yoruba, English and her native Ibibio earned her an appeal which cut across tribal lines.
Early life
Essien-Igbokwe was born in Okat, Onna Local Government Area of Akwa Ibom State, Nigeria. She lost her mother at the age of 12, after which she lived in Aba, Abia State with a friend of her late mother, who encouraged her singing career and bought her a second-hand cassette-player with which to record her songs.
Career
Essien-Igbokwe began her musical career in Secondary School singing at various clubs such as Uka Onu's Club and Unikoko in Aba, Abia State. She featured on a programme called 'Now Sound' on the Nigerian Television Authority Channel 6, Aba. During that time, a show called 'The New Masquerade' was also airing on the same station. During a taping of one of the show's episodes, she corrected a cast member who rehearsed his lines incorrectly, thereafter she was offered a role in the series. In 1976, she joined the cast of 'The New Masquerade' and played the role of Akpenor, the wife of the cantankerous character, Jegede Sokoya (played by Claude Eke). Her role on that popular show put her in the limelight and in 1977, she launched a professional music career by releasing her debut album called 'Freedom'. Many of her albums became hit records, but none came close to the success of her 1981 hit album 'Ever Liked My Person' produced by Lemmy Jackson.
Always at the forefront of issues affecting women and children, she played roles in some of the early Nollywood flicks such as 'Flesh and Blood' and 'Scars of Womanhood', both of which addressed issues of child abuse and female circumcision. With a desire to make life better for Nigerian artists, she is credited as having initiated the first meeting that brought about the formation of the Performing Musicians Association of Nigeria in 1981. A year later, the association was founded and King Sunny Adé became the president with the late Sonny Okosun serving as his vice, while she was the national treasurer. Between 1996 and 1999, she became the first female president of the association. The Akwa Ibom born performer featured in many national and international shows and also had the honour of composing and performing what would later be known as her state's informal anthem, "Akwa Ibom Mmi (My Akwa Ibom)" in 1987, its year of creation. She operated a shop in Etinan, her native town in Akwa Ibom State, where she sold industrial printing machines.
Family
She got married in October 1979 to Chief Edwin Chukwunenye Igbokwe, the then managing director of Punch Newspapers, till her time of death she remained married with four male children. They are Mr Obiora Chukwuemeka Igbokwe, Mr Chinwuba Kenechukwu Kaka Igbokwe, Mr Solomon Chukwukadibia Olubunmi Igbokwe and Mr Lucky Samuel Azubueze Igbokwe. Her grandchildren are Miss Elizabeth Uduak Igbokwe, Miss Christiana Chizaramekpeleamaka Ijeoma Igbokwe and Master David Igbokwe
Death
She died in an undisclosed hospital in Lagos on June 30th 2011 at the age of fifty.
International awards
"Silver Prize" Winner at 6th Seoul Songs Festival, South Korea – 1983
"Grand Prix " Winner at Neewollah Music Festival at Independence, Kansas, USA – 1983
"International Special Achievement" Award of Musexpo, Acapulco, Mexico, 1983
"Certificate of Merit" Award for songwriting and composing at the 10th Annual American Songs Festival, Los Angeles, USA – 1983
"Audience Favourite" Award of International Music Festival at Baker University, USA – 1983
"Silver Prize" Winner at Second International Music Festival of Oklahoma University, USA – 1983
"Outstanding Performance" Award at the World Song Festival, L.A. Arts Academy, USA – 1984
"Distant Accord" Award at the FIDOF Festival in Hollywood, L.A., USA, 1990
Honorary Doctorate Degree (Honoris Causa) Award in Business Management by Cornerstone University & Theological Seminary, Jerusalem, Israel – 2010
Honorary Doctorate Degree (Honoris Causa) Award in Literature-in-Africa by University of Berkeley, Chicago, Illinois, USA – 2010
Local awards
"Lady of Songs" by Nigerian Entertainment Writers – 1980
"Star Performer" Award of Nigerian Television Authority – 1983
"Best Actress Runner-Up" Award for Excellence by silver Jubilee Committee of the Nigerian Television Authority – 1984
"African Music Mother" Award by Music Extravaganza'84 in collaboration with African Music Development, New York, USA
"Adaha Onna" (Pillar of Onna LGA)
Akwa Ikwo Eket (The Greatest Singer from Eket Community) by Eket LGA Authority
Aha Nwanyi Ejiagamba 1 of Oru Ahiazu, Mbaise, Imo State
"Golden Voice of Africa" Award by music Students Association, Obafemi Awolowo University, Ile-Ife.
"Gold Award" of 25 Nigerian Celebrities – 1988
"Certificate of Honour" by the Nigerian Union of Journalists, Anambra State Council – 1990
"Certificate of Recognition" by National Film Festival – 1992
"Service to the Music Profession" Award by Performing Musicians Association of Nigeria on the platform of Nigerian Music Award (to Christy Essien Igbokwe/Edwin Igbokwe) for their efforts in its formation and creation – 1988
Special Musical Patents Decoration Award – 1994
"Merit Award for Excellence in the Field of Music Therapy" by Medical Association of Nigeria
"Award of Honour" by Nigeria Institute of Journalism Student's Union, Ibadan Campus
"Certificate of Honour" in recognition of her role as a woman of substance and her excellent performance in musical entertainment by National Association of Akwa Ibom Students, University of Ibadan chapter.
"Grand Fellow of Nigerian Youths" by the Nigerian Youth Organization
"Queen of Music International" Award by the Association of Nigerian Theatre Arts Practitioners, Lagos State and Degbola International Promotions – 1996
"Outstanding Achievements Uplifting Female" Award by Youth Re-Orientation Movement – 1996
"Merit Award in Honour of Care for the Nigerian Child" by Broadway International School – 2000
"Award of Excellence and Outstanding Leadership Qualities" as the first female president of the Performing Musicians Association of Nigeria – 1998
"The Best Dressed Female Musician" Award in the Patriotic Dress category at the Nigeria Fashion Show – 1997
"Member of the Greatest Performers" Award in recognition of her immense contribution to the development and reformation of the world youths – 1996
"Award of Excellence" as Matron of the Great Eni-Njoku Hall (University of Lagos chapter – 2000
"Pacesetter Award" in recognition of her vision, initiator and organizer of the First ECOWAS Cultural and Musical Festival & the Entertainment Award – 1997
"Lover of Children" Award in recognition of her contribution towards child social and welfare development in the society – by legendary Page Boys Club (Socio-Cultural & Humanitarian Club)
"Member of the Order of the Federal Republic by Federal Government of Nigeria – 1999
"Defender of Children" Award by Interclassic Youth Forum (a non-governmental organization)
"Outstanding Achievement in Entertainment Industry" Award by Top Celebrities Magazine -2010
"Merit Award for African Heritage" by The Gong African News Magazine – 2010
"Honorary Fellowship Award" by Institute of Corporate & Business Affairs Management, Nigeria.
"Nigerian Woman of Valor" Award by National Centre for Women Development, Abuja – 2010.
Posthumous honours and awards
"Entertainment Icon" by West African Women in Leadership Conference (in Ghana) – 2011
"Excellence in Outstanding Performance & Hard Work" by National Association of Akwa Ibom State Students (NAAKISS) – University of Lagos Chapter – 2011
She was honoured on her 58th posthumous birthday with a Google doodle on November 11, 2018
Matronship/extra-curricula positions
Matron; Eni-Njoku Hall, University of Lagos
Matron; Akwa Ibom Journalists Forum, Kaduna
Matron; National Association of Akwa Ibom Students, University of Port Harcourt
Matron; Nigerian Youth Tourist Organization
Matron; National Association of Akwa Ibom Students, University of Lagos
Matron; Association of Beauty Therapy & Cosmetology of Nigeria, Lagos
Matron; Worldwide Twins and Multiple Foundation
Deputy Vice President/Vice Chairman, Governing Council of Institute of Corporate and Business Affairs Management, Nigeria.
Charity programmes
Essien-Igbokwe's charity programmes dated back to 1980, when she started championing the cause of the less privileged in our society especially the Nigerian Child. This is also evidenced in her works, such as:
Show a Little Bit of Kindness
Do You Hear Me, Children?
Seun Rere
Hear the Call
Onwegh Ihe Ka Nnwa Na Uwa (Nothing is greater than child)
Royalties from the sales of her past albums remain directed towards charity projects and the needy in our society.
Charity and tourism projects
The Lady of Songs has successfully and single-handedly pursued and executed charity projects in the following States in Nigeria
Adamawa State (then Gongola State); where she raised funds used by the State Government to fence, equip, renovate and provide drinkable water and main pump to the State's only rehabilitation centre (at Jada) for the handicapped.
Rivers State; where she raised funds for the Catholic Children's Home and Psychiatric School.
Enugu State (then old Anambra); where she fully equipped refectory for the School of the Blind, Deaf and Dumb, Ogbete, Enugu
Plateau State; where she raised funds through Command Performances to provide scholarship endowment fund for able-bodied and handicapped children of the State origin.
Dedication of all proceeds from her tenth album to Essential Childcare Foundation's coffer.
She has scores of students under her scholarship studying in various institutions within the country (Nigeria).
Her Charity work does not stop in Nigeria
In Liberia before the civil war, she (considering how popular she was there) was the guest of that country's government; to raise fund for improvement of the only television organization (then) during President Samuel Doe's tenure.
In Ghana where she was invited to raise fund and also launch potential Tourism in Ghana that is still booming till today. This was in 1994.
Other achievements
FORMATION OF PMAN: With her ideas and husband's support, she recorded the feat as the brain behind the formation of the only recognized national (union) body for musicians in the country, aptly called Performing Musicians Employers Association of Nigeria (PMAN) in 1982. It is meant to cater for the welfare and protection of Nigerian musicians and their rights, nationally and internationally. When the Union was heading for extinction, she was dragged to head it so as to revive her baby. This culminated in her serving as PMAN President for two terms and remains, till date, the only female so far to have headed a trade union in Nigeria.
FORMATION OF PMRS: She is a founding member of the Performing and Mechanical Rights Society (PMRS) of Nigeria and was the Chairman of the Board for two consecutive terms; becoming the second female to head the Society – after Chief (Mrs.) Keji Okunowo. The society is majorly concerned with the general responsibility of negotiating, collecting and distributing royalties on behalf of musical copyright owners who are mostly its members.
ABROGATION OF OFFSHORE/ONSHORE OIL DICHOTOMY: It is on record that what the littoral State in Nigeria are enjoying today is as a result of the abrogation of the obnoxious onshore and offshore oil dichotomy which was made possible by God through Christy's final push. She mounted a campaign of persuasion that saw the regime of General Ibrahim Badamosi Babangida initiate and abrogate the dichotomy; thereby putting paid to the struggle that lasted decades.
SUSTAINED EXISTENCE OF THE FRSC: It was through her interventional effort that the Federal Road Safety Commission (FRSC) remains today as a separate entity. When it was planned for scrapping or merging with the Nigeria Police Force, she brought pressure to bear on the Federal government and thus the FRSC was spared till today. This again was during the tenure of Military President General Ibrahim Badamosi Babangida.
PRIVATE TELEPHONY: It is a fact that granting license for the private telephony started from the regime of late General Sani Abacha. Christy had to intervene by pushing forward the idea that the world is fast changing in telecommunication. The idea came to her when a private telephone company (EMIS) that had its equipment and staff ready approached her with their predicament as a result of license denial. She fought this and thus EMIS became the first privately licensed telecommunication company; others then followed with ease.
Later life and death
Close to the time of her death, she was involved in private business, running the non-governmental organisation "Essential Child Care Foundation" involved in child welfare needs and rights as well. Her recent public outings include the Inspire Africa Benefit Concert in January 2009, where she performed alongside her son Kaka and the MTN Musical Festival, a musical show of old and new-breed musicians in 2009.
Her second son, Kaka is also towing the music line. He is a hip hop artist and producer. One of her earliest albums 'Ever Liked My Person' sold above platinum till date. So popular was one of its hit songs 'Seun Rere', that a number of African countries have sung their own version. The singer intended to spend the day with the less-privileged children as she has always done over the years. Essien-Igbokwe died on 30 June 2011 after a brief illness.
Awards and honours
Essien-Igbokwe won several awards throughout her career including Nigerian lady of songs award which she received in 1984, Africa music mother award 1984, International special achievement award in Mexico in 1983, world song festival award, Los Angeles, queen of music international award association of theatre arts practitioners in Lagos in 1996 and outstanding achievement in female uplifting. She also contributed enormously to nation-building, peace and tolerance – which, alongside moral uprightness, remain constant themes of her songs.
On November 11, 2018, Google recognized her with a doodle.
Discography
Freedom (LP, Album) Anodisc Records 1977
Patience (LP) Anodisc Records 1978
Time Waits For No One (LP) Blackspot (2), Decca 1978
One Understanding (LP) Afrodisia 1979
Give Me A Chance (LP, Gat) Afrodisia 1980
Ever Liked My Person? ◄ (2 versions) Lagos International Records, Skylark Records 1981
It's Time (LP, Album) EMI (Nigeria) 1982
Taking My Time (LP, yel) Soul Train Records 1986
Hear The Call (LP) Ivory 1990
Mysteries of Life (LP) Soul Train Records 1992
All of a Sudden (LP) Soul Train/Apex Entertainment 2011 (TBR)