Judith Audu: Biography, Age, Career, Family And Movies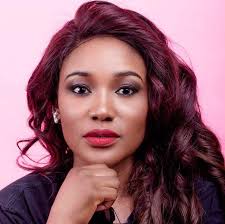 Judith Emike Audu-Foght, professionally known as Judith Audu, is a Nigerian film and television actress, presenter, model, blogger and movie producer. She is renowned for her role as Mofe in the Nigerian television series Emerald, alongside Joseph Benjamin, Carol King, Lilian Esoro and Femi Branch.
Early life
Audu was born in Navy Town, Ojo to a Naval Personnel father; Audu Ali Audu and mother; Gift Salamat Audu. Her mother was a restaurateur and entrepreneur that owned a chain of restaurants and a rental service for events. Judith has two brothers, elder brother Franklin Audu and a younger brother Abdulmalik Audu. She is the second child and only daughter. She is from the Auchi area of Edo State in the southern part of Nigeria.
Audu attended Navy Town Primary School, Ojo, from 1988 to 1993, then proceeded to Navy Town Secondary School from 1993 to 1999, where she majored in the Arts. She then went to the Nigerian French Language Village, Badagry in 2001 and obtained a Diploma that she used in getting a Direct Entry into the University of Lagos in 2002.
In 2005, Audu obtained a B.A in French from the University of Lagos. After her National Youth Service (NYSC) In Kebbi State in 2006/2007, She went back to the University of Lagos and applied for master's degree course in Public and International Affairs from 2008 to 2010, where she graduated with a degree in Masters of Public and International Affairs (MPIA).
Career
While at the University of Lagos, Audu joined a theatre group called the Campus Playhouse and took part in several stage productions. From there she auditioned to be a part of Theater 15 which was the most respected theatre group in the University of Lagos at the time. It was from these theatre groups that Audu honed her acting skills and worked alongside Nigerian television personality Denrele Edun, actor/comedian Koffi and Director Wole Oguntokun.
In 2004, when the University of Lagos went on a ten-month strike, Audu was invited by her colleague Denrele Edun to Alpha Vision Company where she auditioned for and got her first role on the small screen in Tajudeen Adepetu's TV Series, One Love. In the same year, Audu officially registered herself as an actor with the Actor's Guild of Nigeria and began attending auditions, through which she got a role in a Ghetto film by Femi Ogedegbe titled Tears of the Ghetto (Life is beautiful). At the end of the University strike, Audu went back to school and took a hiatus from acting, although she did take a part in an independent children's series, Funtime, where she played the role of Vanessa.
During her compulsory National Youth Service, she was the presenter and producer of a programme on Kebbi State Television called French For Beginners and was also the Drama Troupe Director.
In 2011, after completing her master's degree program, Audu attended an audition for a role in the television drama, Tinsel and got the role of a gynaecologist, she has since been part of several Television Series like Emerald, Seekers, Burning Spears, Tinsel, Huzzel, 4 Walls, Comfort Zone, Rush, Funtime, Life is Beautiful, Case File, House Apart and Queens Drive.
In 2014, Audu produced her first film, a short film on domestic violence titled 'Not Right', which starred Omowunmi Dada, Ani Iyoho, Philip Festus and Judith Audu.
In 2014, Audu began airing a radio show on a popular online radio station, Igroove Radio tagged Meet the Actor With Judith Audu where she does personality chats with Actors from all over the world.
In May 2016, Audu produced and premiered her first-ever, full-length feature film, under her production company, Judith Audu Productions. The movie, titled Just Not Married features Stan Nze, Rotimi Salami, Ijeoma Agu, Obutu Roland, Brutus Richard, Gregory Ojefua, Judith Audu and Perpetua Adefemi. The movie enjoyed rave reviews and topped cinema ratings across Nigeria in the first few weeks of its release.
Personal life
Judith Audu married Morten Foght on 1 July 2011.
Audu is an avid blogger and has two blogs: www.judithaudu.blogspot.com where she profiles up and coming artists and does entertainment news, and the other is www.playingwithrecipes.blogspot.com where she shares food recipes she plays with as she is also a foodie and loves experimenting and trying out recipes from all over the world.
Awards and recognition
In 2013, she was nominated for the Best Female Actor Award 2013 at the Nigerian Broadcasting Merit Award.[12]
In December 2014, Audu won the award for Best Actress at the In-Short International Film Festival 2014 for her role in the short-film, Alpha Mom.
Audu's short film Not Right, which she produced and starred in was nominated for the 2015 Africa Magic Viewers Choice Awards as 'Best Short Film', the film was also nominated at the Best of Nollywood Awards, Nollywood Movie Awards and at the Abuja International Film Festival in 2014.
In 2016, Audu won the award for Best Actress at the Best of Nollywood Awards for the movie Just Not Married. Audu won the award for Best Actress in a Supporting Role (African Film in English) for the movie Obsession at the 22nd African Film Awards in the UK in November 2018, as well as at the Toronto International Nollywood Film Festival for her role in the movie Unfinished Business.
Year
Event
Prize
Result
2013
Nigerian Broadcasting Merit Award
Best Actress on TV – (Emerald)
Nominated
2014
In-Short International Film Festival
Best Actress (Alpha Mom)
Won
2016
Nigerian Models & Achievers Awards
Female Fast Rising Model Actor of the Year
Nominated
Best of Nollywood Awards
Best Actress (Just Not Married)
Won
Abuja International Film Festival
Best Actress (Just Not Married)
Won
City People Movie Awards
Best Movie Producer of the Year (Just Not Married)
Nominated
ZAFAA Awards
Movie Producer of the Year
Won
2017
Nigeria Entertainment Awards
Supporting Actress of the Year
Nominated
The African Film Festival
Best Actress
Won
Nigeria Achievers Awards
Next Rated Movie Producer of the Year
Nominated
Campus Hubb Awards
Best Youth Actress
Nominated
2018
Starzz Awards
Creative Movie Producer of the Year
Nominated
Toronto International Nollywood Film Festival
Best Supporting Actress (Unfinished Business)
Won
African Film Awards
Best Supporting Actress (Obsession)
Won
Filmography
| Year | Title | Role | Director | Notes |
| --- | --- | --- | --- | --- |
| 2004 | One Love | Chika | Wasiu Onitilo | TV Series |
| 2004 | Life is Beautiful | Jossy | Femi Ogedengbe | Feature Film |
| 2004 | Hammer | Fela's Girl | Izu Ojukwu | Feature Film/Cameo Appearance |
| 2006 | Funtime | Vanessa | Nkiru Okonkwo | TV Series |
| 2010 | House Apart | Sasha | Tony Enejedu | TV Series |
| 2010 | Huzzel | Jennifer | Davies Obiekea | TV Series |
| 2011 | Tinsel | Gynaecologist | Tope Ogun, Victor Aghahowa and George Kura | TV Series (Recurring Role) |
| 2012 | The Journey | Wunmi | Femi Adewale | TV Series |
| 2013 | Emerald | Mofe | Tope Alake and John Njamah | TV Series |
| 2013 | 4 Walls | Tutu's mother | Kolade Shasi | Short Film |
| 2013 | Yes I Don't | Sheyi | Best Okoduwa | Feature Film |
| 2013 | Switch | Sade | Best Okoduwa | Feature Film |
| 2013 | Seekers | Dupe | Yemi Remi | TV Series |
| 2013 | Burning Spears | Omowunmi | Segun Kayode | TV Series |
| 2013 | Olorogun and Company | Avwebo | Segun Kayode | TV Series |
| 2013 | Comfort Zone | Nina | Obi Osotule | TV Series |
| 2013 | Love is Over-rated | Chinelo | Belinda Yanga | Feature Film |
| 2014 | Stopping Kloe | Evelyn | Ehizojie Ojesebholo | Mnet Original TV Film |
| 2014 | Alpha Mum | mother | Akin Harrison | Short Film |
| 2014 | Out of Fire | Angelina | Ehizojie Ojesebholo | Mnet Original TV Film |
| 2014 | Not Right | Funmi | Uduak Obong Patrick | Short Film |
| 2014 | A Day with Death | Kulapo | Oluseyi Asurf | Short Film |
| 2015 | Tales of Eve 5 | Nengu | Imoh Umoren | TV Series |
| 2015 | Mama Osaro Goes Kinky | | Ehizojie Ojesebholo | Comedy |
| 2016 | Just Not Married | Keji Anuola | Uduak-Obong Patrick | Feature Film, Produced by Judith Audu Productions, Blacreek Pictures and Asurf Films |
| 2019 | The Family | Lead | Judith Audu | Feature Film, Produced by Judith Audu Productions, featuring Omowumi Dada, Judith Audu, Tina Mba, Mofe Duncan, Beverly Osu and more |