Adesua Etomi: Biography, Age, Career, Family And Movies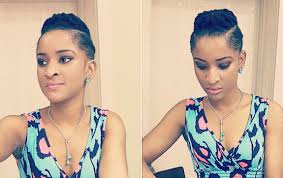 Adesua Etomi (born 22 February 1986 or 1988) is a Nigerian actress. In 2014, she starred in her first feature film Knocking On Heaven's Door. She won the Best Actress in A Drama award at the 2016 Africa Magic Viewers Choice Awards for her role in the 2015 romantic drama film Falling.
Early life and education
Tolulope Adesua Etomi was born in Owerri, Imo State, on 22 February. Several major editorials on Etomi state her birth year as 1988. However, in an interview published in January 2016, Etomi told Pulse Nigeria that she was 29 years old. Furthermore, Answers Africa published an article in March 2016, stating that she was 30 years old. Her father is a soldier of Esan descent (Edo State, Nigeria), and her mother is an engineer of Yoruba descent. She is the youngest of three siblings. Etomi attended Corona School in Victoria Island, Lagos, where she joined the drama club at the age of seven. Thereafter, she attended Queen's College, Lagos before moving to the United Kingdom at the age of 13 years old, and later obtained a diploma in "physical theatre, musical theatre and performing arts" from City College Coventry in 2004. After completing these courses in 2006 with triple distinctions, she studied drama and performance at the University of Wolverhampton, graduating with first-class honours.
Career
Etomi's film credits include The Arbitration, The Wedding Party, and Falling. Her performance in Falling earned her the 2016 Africa Magic Viewers Choice Award for Best Actress In A Drama. Other notable films she has appeared in include A Soldier's Story (2015), Out of Luck (2015), and Couple of Days (2016). Etomi played Shiela in the fourth and fifth seasons of Shuga, a television soap opera about HIV/AIDS prevention. Etomi began starring as Amaka Obiora, an undercover police officer, in Yemisi Wada's crime series LasGidi Cops, which debuted in June 2016 on television. She was also featured on Vogue's list of 14 global superstars.
Personal life
She got engaged to Banky W in February 2017. They both got traditionally married on 19 November, Court Wedding on 20 November and on 25 November (2017) they had the White Wedding in Cape Town, South Africa.
Filmography
Film
Year
Title
Role
Notes
2013
The Call
Tara
Short Film
2014
Brave
Layo
Short Film
2014
Knocking On Heaven's Door
Debbie
Feature Film – Theatrical release: 18 April 2014
2015
Falling
Muna
Feature Film – Theatrical release: 18 September 2015
2015
A Soldier's Story
Lebari
Feature Film – Theatrical release: 23 October 2015
2015
Out Of Luck
Bisola
Feature Film – Theatrical release: 4 December 2015
2016
Couple Of Days
Nina
Feature Film – Theatrical release: 5 February 2016
2016
And The Spirit Slowly Dies
Tima Odera-Blake
Feature Film – In development
2016
The Arbitration
Dara Olujobi
Feature Film – Theatrical Release: 12 August 2016
2016
Something Wicked
TBC
Feature Film – Theatrical Release: First Quarter, 2017
2016
The Wedding Party
Dunni Coker
Feature Film – World Premiere – 8 September 2016
2016
Ayamma: Music In The Desert
Ayamma/Iko/Ihuoma
Feature Film – Theatrical release: 23 December 2016
2017
10 Days In Sun City
Bianca
Feature Film – Theatrical Release: 23 June 2017
2017
The Wedding Party 2
Dunni Onwuka
Feature Film – World Premiere – 11 December 2017
2018
Date Night
2018
King of Boys
Adekemi Salami
2018
Memoirs of 4
2018
Up North
Zainab
2019
Muna 
Muna
2019
Malika: Warrior Queen 
Malika
Television
| Year | Title | Role | Notes |
| --- | --- | --- | --- |
| 2012 | Smooth Promotions | Reporter/Presenter | TV Station |
| 2014 | Gidi Up (season 2) | Sharon | Series |
| 2015 | Las Gidi Cops | Amaka Obiora | Series |
| 2015 | Shuga (season 4) | Sheila | Series |
| 2017 | Shuga: Down South | Sheila | Series |
Theatre
Year
Title
Role
Company
2004
The Crucible
John Proctor
City College Production
2005
Miss Saigon
John Thomas
City College Production
2006
Jesus Christ Superstar
Judas
City College Production
2008
Fractal
The Oppressed
Arena Theatre
2009
The Grimm Tales
Dwarf/Witch
Arena Theatre
2009
Not My Cup Of Tea
Immigrant
Arena Theatre
2012
The Miller's Tale
Alice
Saga Tiata – Edinburge Fringe Festival
2013
Anatomy Of A Woman
Bolatito
Lagos Theater Festival
2013
Shattered
Loveth
Paw Studios
2013
Crystal Slippers
Sewa
Thespian Family Theater
2013
London Life Lagos Living
Sue
Paw Studios
2013
Saro
Rume
Bap Productions
2013
Secret Life Of Baba Segi's Wives
Segi
Joos and Joms Productions
2014
Band-Aid
2014
Make We Waka
Chantelle
Look Left Look Right
2014
Saro
Rume
Bap Productions
Voice over
| Year | Role | Company |
| --- | --- | --- |
| 2013 | Taste Bud | Fanta |
| 2014 | Fan | Solo Phones |
Awards and nominations
| Year | Award | Category | Recipient | Result |
| --- | --- | --- | --- | --- |
| 2009 | Foresight Theater Awards | Best Performance in a devised Piece of work | Herself | Won |
| 2014 | 2014 Golden Icons Academy Movie Awards | Most Promising Actress | Knocking on Heaven's Door | Nominated |
| 2014 | Nollywood Reinvented Awards | Best New Actress | Herself | Won |
| 2015 | Golden Movie Awards | Golden Actress in a Lead Role | Falling | Nominated |
| 2015 | Golden Movie Awards  | Discovery of the Year | Herself | Won |
| 2015 | City People Entertainment Awards  | Best New Actress | Herself | Nominated |
| 2015 | 2015 Golden Icons Academy Movie Awards | Best Actress | Falling | Nominated |
| 2015 | 2015 Golden Icons Academy Movie Awards | Best On-screen duo | | Nominated |
| 2015 | 2015 Golden Icons Academy Movie Awards | Female Viewer's Choice | Herself | Nominated |
| 2015 | ELOY Awards | Actress of the Year – Big screen | Falling | Won |
| 2015 | ELOY Awards | Actress of the Year – Television | Gidi Up | Nominated |
| 2016 | 2016 Africa Magic Viewers Choice Awards  | Best Actress in a Drama (Movie/TV series) | Falling | Won |
| 2016 | 12th Africa Movie Academy Awards | Best Actress in Leading role | Falling | Nominated |
| 2016 | Golden Movie Awards | Golden Actress | Falling | Nominated |
| 2016 | Nigeria Entertainment Awards | Best Actress in Leading Role | Falling | Nominated |
| 2016 | ELOY awards | Actress of the year – Big Screen | The Arbitration | Nominated |
| 2017 | 2017 Africa Magic Viewers Choice Awards | Best Actress Drama/TV Series | The Arbitration | Nominated |
| 2017 | 2017 Nigeria Entertainment Awards | Best Lead Actress In A Film | Ayamma | Nominated |