Unity Bank Mobile App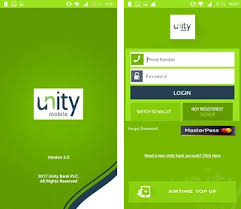 Unity Bank, also known as Unity Bank plc, is a commercial bank in Nigeria, with its headquarters located in Abuja.
The financial institution boasts several millions customers, and to make transactions easy for those customers Unity Bank launched its mobile app.
After downloading, installing and registering the mobile app, you can perform several transactions from your home or on the go.
Which means you don't have to spend several hours in bank queues or ATM service points to complete certain transactions.
Download Unity Bank mobile app
Click on your device operating system so you'll be redirected to the official download portal:
Android apk: Click here to download Unity Bank mobile app from Google Play Store.
iOS (iPhone, iPad, iPod): Click here to download it from Apple store.
BlackBerry: Click here to get it on BlackBerry World.
Windows: Click here to get it on Microsoft store.
How to register for Unity Bank mobile / online banking
Register as an existing Union Bank Internet / Online banking user:
After downloading and installing Unity Bank Mobile app, click on it to open it on your device.
If you're an existing online bank user, all you need to do is login using your online banking credentials.
Register as a new user (non-Internet banking user):
After installing the app, click on it to open it.
In the app login page, click on "Not Registered SIGNUP".
Follow the instructions on the screen to complete your registration.
Note: the SIM card you have linked to your Unity Bank account must be active in order to receive your token without stress.
Things you can do on the app:
Transfer Funds to any bank account in Nigeria
Recharge without logging into your account
Pay your Utility Bills and PayTV subscription.
Check your Account Balance anytime, any day.
Manage your cheque transactions (Confirm, Stop).
Generate Account Statement.
Manage all your Unity Bank accounts (Current, Savings, Domiciliary, etc.)
Manage all of your debit Cards (block and unblock them).
Book flights and hotel.
Open a new account.
Locate bank branches & ATM service points near you.