Unity Bank Account Number
Virtually all the banks in Nigeria provide several ways for customers to easily retrieve their account numbers. And thank goodness Unity is one of them.
Unity Bank PLC is one of the CBN approved banks in Nigeria, boasting millions of customers nationwide. Each of those customers have their unique 10-digit NUBAN (Nigeria Uniform Bank Account Number).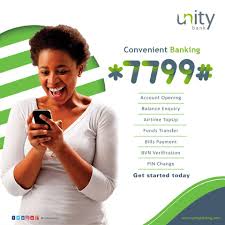 In case you've forgotten yours, there are ways you can easily retrieve it:
Check Unity Bank Account Number Using code
To check your Unity Bank account number, dial *7799# and select the option that says 'check account balance'.
Enter the last 4 digits of your mastercard or your mobile banking PIN to authenticate your transaction.
After completing the steps above, the network will send you your account balance along with your 10-digit NUBAN.
Check Unity Bank account number online
You have the option to contact Unity Bank customer care via live chat, email, phone numbers and more. After which you can request for your NUBAN.
You may be asked to provide the following information so as to be able to confirm you own an account with Unity Bank:
Full name
Phone number linked to your Unity bank account
Next of kin
Date of Birth
The bank branch at which you registered your account
Residential address
If you're able to confirm that you own an account with Unity Bank, the customer care representative should be able to help you with your account number.
Visit any Unity branch near you
If you're unable to get bank your account number following the two options above, then the next option is to visit a visible bank branch near you.
The customer care representative will most likely ask you to provide several information that will be used to verify your account ownership. If you provide accurate answers, then the customer care personnel will help you retrieve your account number.