Keystone Bank Transfer Code
Before Keystone introduced the use of USSD code, customers had to visit the bank or ATM machine to send money. Another option would have been to download and register on the Keystone mobile app. But now you don't need all that; all you need to do is dial a simple code on your mobile device.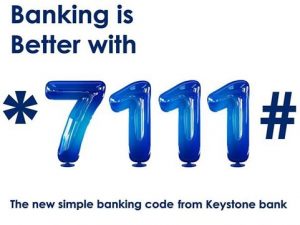 However, before you continue with this guide, you need to register for Keystone USSD banking. If you've previously registered, you can scroll down to how to transfer using the code.
To register, dial *7111*0# and follow the on-screen instructions. You need to enter your account number and choose a 4 digit PIN which you shall be using to authenticate transactions. Ensure you dial the code using the phone number linked to your keystone bank account.
How to send money using keystone Bank Transfer Code
To transfer money to Keystone and other Bank accounts in Nigeria, dial *7111*AMOUNT*10 DIGIT ACCOUNT NO#.
From the list you see, select the Bank of the recipient and continue with your transaction.
Confirm to see if the full name of the recipient corresponds with what you have in mind.
Enter your PIN or the last 4 digits on your ATM MasterCard to authenticate your transfer.
After completing the above steps, you'll receive a debit alert from Keystone bank confirming your transfer.
Keystone Bank transfer charges and limits
Limits:
Keystone doesn't specify a limit on the official website; however, we believe the maximum cumulative transfer limit per day is set at or below 100,000 naira. If you wish to increase that limit, visit a Keystone branch near you or contact customer care online.
Charges:
Keystone Bank doesn't explicitly state the transfer charges on its official website. But we believe Intra Bank transfers is free while funds sent to other banks will attract a fee within the range of 30 – 60 naira. If you have experienced something different please do let us know using the comment section below.
Other points to note about Keystone Bank Transfer Code
Keystone USSD transfer code is available to savings and current account holders. But it doesn't work with Corporate, domiciliary accounts and the likes.
The service requires no internet connection. It, however, requires a strong-enough network signal on your mobile device.
The service works with MTN, AIRTEL, GLO and 9Mobile lines.
The service works on any phone type: Android, iOS, Blackberry, Windows or Java.
You can make use of the transfer code anytime, any day, including public holidays and weekends.