Heritage Bank Verve Debit Card
Heritage Bank Verve Debit Card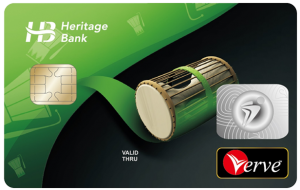 FEATURES
Secured by Chip & PIN technology
Card validity period of 3 years
The daily limits on transaction are;
BENEFITS
Heritage Verve Debit Card is accepted nationwide.
Elimination of Security risk associated with travelling with tons of cash.
Safety and Security of transactions due to Chip and PIN technology
Cardholders can make purchases with Heritage Verve Debit Card via POS Terminals and Local WEB channels securely.
Verve Debit Cardholders also get access to cash through ATMs and POS Terminals.
No extra documentation is required. Ownership of a Heritage account is the only necessary requirement.
Cardholders can manage their finances efficiently.
Heritage Verve debit card offers a bundle of value propositions to the customer, i.e. Rewards, SMS alert to guide against fraudulent transactions.
Convenience and Prestige.
Can be used for VAS (Value Added Services) Quickteller ATM & web bills payment transactions.