Wema Bank Checking Account Balance
Wema bank has a lot of corporate customers who bank on-the-go, hence the importance of making use of mobile banking. Banking on the go is the way to go now, anybody who does not know this now is still living and operating in the past. With USSD and online banking ,various transactions can be done – such as bills payment, money transfer, airtime recharge as well as checking account balance anywhere.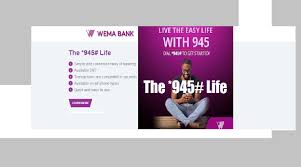 How to check Wema Bank account balance using phone?
After following the steps above, you'll receive a message Wema bank notifying you of your account balance.
Charges & Limits
Each time you use the above code to check your account balance, you'll have to pay a fee of 10.05 naira only. And there's no limit to the number of times you can access your balance, provided you have enough money in your account to pay for the charges.
What you should know about Wema bank account balance code
It works with all phone types (android, iOS, Blackberry, or Java), so long as it supports USSD operations.
You can check your balance anywhere and at any time of the day, even during weekends and public holidays.
The above USSD code doesn't need any internet connection; however, your mobile device must have a good network signal. In addition, it works with MTN, Airtel, Glo and 9mobile.
The code only works with a phone number linked to your Wema Bank account.