Unity Bank Recharge Code
Using Unity Bank recharge code, topping up your line or the lines of your friends and family is easy and stress-free. This guide will show you how to use this simple short code properly.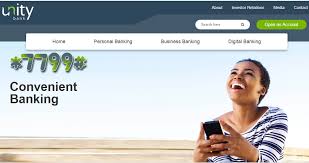 But before Unity Bank introduced the recharge USSD codes, customers had to visit ATMs or download the Unity Bank mobile app to be able to recharge directly from their accounts.
Needless to say, using a simple USSD code to recharge from your account is very much easier and faster than using ATMs or the mobile app.
But you need to first of all register for the USSD banking by dialing *7799# using the phone number linked to your account. You'll need to dial this code using the phone number linked to your account. Also, you need to create a PIN that will be used to authenticate transactions.
How to top-up airtime using Unity Bank Recharge code
To recharge for yourself, dial *7799*Amount# (e.g *7799*1000#) from the Phone Number attached to your Unity Bank Account.
To recharge for someone else or a number not linked to your Unity bank account, dial *7799*Phone Number*Amount# (e.g *7799*09097211012*1000#) from the Phone Number attached to your Unity Bank Account.
After dialing any of the above codes, enter your USSD banking PIN or the last 4 digits of your ATM card number to confirm your transaction.
Thereafter, you'll receive a debit alert from Unity bank and a message from recipients network provider confirming the top-up via VTU.
Recharge charges & limits
Charges:
Using Unity bank recharge code to top up your phone is absolutely free. Which means, you don't pay any other fee apart from your recharge amount.
Limits:
You can top-up not more than 20,000 naira airtime daily and per transaction. If you wish to increase this daily limit, visit any Unity bank branch near you or contact customer care online.
Other points to note about Unity Bank recharge code
Recharging from Unity account is not reversible, so you must be very careful before confirming transactions. Amount and recipient's number – in cases of 3rd party recharge – must be carefully entered.
You can use this code on all mobile phone types, including android, iOS, Blackberry, Java and more, provided it supports USSD operations.
You can top-up any network in Nigeria (MTN, GLO, 9Mobile, and Airtel).
The recharge amount is deducted right from your Unity bank account main balance.
Using Unity Bank recharge code doesn't require internet connection; however, you must have a good network signal on your mobile device.
The code works at any time of the day, 7 days a week.