Sterling Bank App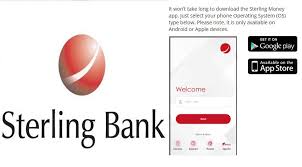 Sterling Bank Plc is a full service national commercial bank licensed by the Central Bank of Nigeria. It boasts millions of customers in Nigeria who are looking for easy ways to bank. As a result, the bank launched its mobile app.
After installing and activating the mobile app, you can carry our several transactions without visiting the bank.
Needless to say, the app will help you save several hours, which can be used for doing something worthwhile.
Download Sterling Bank mobile app
Click on your device operating system from the list below so that you'll be redirected to the official download portal:
Android apk: Click here to download Sterling Bank mobile app from Google Play Store.
iOS (iPhone, iPad, iPod): Click here to download the app from apple store.
BlackBerry: Click here to get it from BlackBerry World.
Windows: App is currently unavailable on Microsoft store.
How to activate / register for Sterling Bank mobile banking
To register as a new Sterling Bank Internet Banking customer:
Download and open the app on your device
In the login page, click on signup
Fill all the forms you're provided with and follow the instructions on the screen.
To complete the above steps, make sure the line linked with your Sterling Bank account is active.
Register as an existing Sterling Bank Internet Banking customer:
Download and open the app on your device.
In the login page, enter your Sterling Bank Internet Banking credentials to login.
Wait for the app to authenticate using the mobile number linked to your account.
Things you can do on the app:
Link multiple Sterling bank accounts
Self-Registration
PayTV subscription and Utility Bills payment
Use the locator to detect the nearest ATM or Bank branch.
Chat with a customer care representative live from the app.
With the app, you can search for the closest Sterling Bank Automated Teller Machine (ATM) and withdraw cash without a card.
Transfer funds to any Bank account in Nigeria and beyond.
Recharge any network in Nigeria anytime, any day.