Standard Chartered Mobile Banking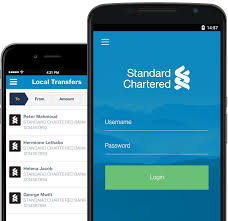 Standard Chartered PLC is a British multinational banking and financial services provider with headquarters in London, England. It operates a network of more than 1,200 branches and outlets across more than 70 countries, Nigeria inclusive.
Standard Chartered Branch launched its mobile app in order to meet the needs of its millions of customers worldwide.
After downloading and installing the app, you don't have to visit a bank or ATM to carry out simple transactions.
You can complete transactions including airtime recharge or funds transfers from the comfort of your home or on the go.
Download Standard Chartered mobile banking app
Click on your device from the list below so you'll be redirected to the official download portal:
Android apk: Click here to download Standard Chartered mobile banking app from Google Play Store.
iOS (iPhone, iPad, iPod): Click here to download the app from Apple store.
BlackBerry: Click here to get it from BlackBerry world.
Windows: The app is currently unavailable on Microsoft store.
Alternatively, visit your app store and search for "Standard Chartered Mobile".
The links above direct to the Nigerian versions of the bank app. If you're from another country, then you need to search using your device app store.
How to register on Standard Chartered mobile banking app
To register as an existing Standard Chartered online / internet banking customer:
After installing the app, click on it to open it on your device.
In the login page, enter your online banking username and password.
Follow the instructions on the screen so that the app will authenticate.
To register as a new user (non-Internet Banking customer):
After installing the app, click on it to open it.
In the login page, click on register
Follow the instructions on the screen to complete your registration.
Note: to complete the above registration, the phone number linked to your bank account must be available.
Things you can do on the app:
Register instantly for SC Mobile and Online Banking
Reset your forgot username or password
View details and history of your accounts, loans and credit cards
Transfer funds to local and International Banks
Instantly top up airtime and pay for DSTV, GoTV, ECG, KweséTv,Water, etc.
Pay for your Standard Chartered Credit Card
Schedule payments and set Standing Orders
Locate nearest Standard Chartered ATM service point or Branch
Perform Client Investment Profiling (CIP)
Securely Login using Biometric Login Service (Fingerprint/Face identification)
Make loan repayment (Partial/Full settlement)
Request and manage cheque book transactions.
Withdraw money from any SCB ATM without your debit card.