Stanbic IBTC Bank Money Transfer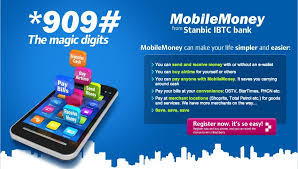 Send and receive money
This page is to introduce your options when you need to receive or send money locally or internationally. With our range of services, you can do it from the comfort of your own home with our mobile app and internet banking, from one of our branches or even from one of our nationwide network of ATMs.
Western Union
You can always rely on Western Union to receive international transfers from family, friends and business partners within minutes with guaranteed safety.
How do I receive money?
You can redeem your Western Union money transfer on internet banking right into your Stanbic IBTC Bank account or simply come into a Stanbic IBTC Bank branch nearest to you and fill a "To Receive" form. You would need to provide the following information:
A Stanbic IBTC Bank account or if you are not an account holder, you must be identified by an individual who owns one.
A valid form of identification.
Your Money Transfer Control Number (MTCN).
Sender's name and location.
Amount of money to be received.
The answer to the security test question (if applicable)
Sending money
Local transfers
Internet banking
With our Internet banking service you can send money from the comfort of your own home or anywhere you have Internet access. It allows you to do real time transactions, is safe and secure and is available at any time of the day.
Mobile money
You can also use our *909# Mobile Money service to send money to someone. If they have a *909# Mobile Money account, you can simply transfer from your wallet to theirs. You can also send a cash voucher from your Mobile Money account to any phone on any network. The person can then go to any of our branches or the nearest Mobile Money agent to cash it.
ATMs
You can avoid having to go onto the branch by using our ATMs to transfer money. Using your ATM debit card, you can transfer funds to other accounts within our bank and you can also send money from the ATM to other banks in Nigeria.
Branch
You can send money to anywhere within Nigeria with Stanbic IBTC local money transfer. This service is available to anyone even if they don't have an account with us. The process is fast and easy and the person receiving the money can collect it as cash or as a bank draft.
You pay a fee of N1, 000 for money transfer.
International transfers
Internet banking
If you have a Domiciliary Account with us, the international funds transfer service allows you to transfer foreign currency online from your account to other Domiciliary Accounts within Nigeria or accounts outside Nigeria.
What do I need?
1. We must receive your transfer instruction by 3.00pm Monday to Friday to ensure the transfer request is processed the same day. Transfer instructions received after this time will be treated the next working day. All transfer requests will be processed subject to foreign exchange control regulations.
2. You must have enough in your account to cover the transfer amount and associated charges in order to enable us process your transfer request. If there are insufficient funds in your account we will not be able to process your transfer request.
3. When you give a transfer instruction, the following details must be provided to enable us process your transfer request:
Beneficiary's bank name and location, sort code/routing number/FEDWIRE/transit number (if applicable), SWIFT code and intermediary bank (if applicable)
Beneficiary's account name and address, account number and IBAN*

*Please note for beneficiaries in the EURO zone or the United Arab Emirates the IBAN is required

Purpose of transfer – you must explicitly state the purpose of the transfer.
How much will it cost me?
The following charges apply for each transfer
Transfer commission: 1% of the transfer amount subject to a minimum of USD 20.00 or its equivalent in the currency being transferred.
VAT of Transfer commission: 5% of the transfer commission.
SWIFT charges: NGN 4 000.00/ USD 30.00/ GBP 22.00/ EURO 25.00/ ZAR 180.00.
Offshore charges
USD transfers: USD 25.00
GBP transfers: USD 15.00 (within UK) and GBP 35.00 (outside the UK).
EUR transfers: EUR equivalent of USD 20.00 on the day the transfer is completed.
ZAR transfers: ZAR 80.00 – ZAR 95.00
Receiving money
Local transfers
Mobile money
You can receive money from your account in two ways:
Via a participating agent
Via an ATM
To receive money via a participating agent, you will need to do the following.
Visit any mobile money cash-out agent.
Fill the mobile money transfer register.
Enter the agent/branch account number.
Enter the amount you are receiving.
Complete the transaction by entering your PIN.
Your account or the account of the sender will be debited for the amount and transaction charge.
Agent branch will then receive a transaction notification via SMS.
To withdraw money via an ATM
You do not need a card to access funds via Stanbic IBTC mobile money service on our ATMs. To withdraw from ATM without a card, you need to;
Go to wallet, click on voucher services and then click on generate vouchers.
Enter recipient's phone number.
Enter amount to be received, confirm transaction by entering your wallet PIN.
You will receive voucher ID and PIN via SMS (two separate SMS).
Go to a Stanbic IBTC Bank ATM and press the enter button to activate mobile money services on the ATM.
When prompted, enter the voucher ID and PIN.
Once your voucher has been confirmed valid and your cash will be dispensed.
Branch
Simply walk into a Stanbic IBTC bank branch and fill a cash transfer request form. Provide a means of identification and the unique code sent to you by the sender.
Internet banking
To receive an international money transfer, you'll need to provide the following details:
•Bank account number
•Sort code
•Account name.
International transfers
Western Union
You can always rely on Western Union to make international transfers to family, friends and business partners within minutes with guaranteed safety.
How do I receive money?
You can redeem your Western Union money transfer on internet banking right into your Stanbic IBTC Bank account or simply come into a Stanbic IBTC branch nearest to you and fill a "To Receive form". You would need to provide the following information:
A Stanbic IBTC account or if you are not an account holder, you must be identified by an individual who owns one.
A valid form of identification.
Your Money Transfer Control Number (MTCN).
Sender's name and location.
Amount of money to be received.
The answer to the security test question (if applicable)