Polaris Bank Limited Mobile Banking
Polaris Bank, formerly Skye Bank, is a commercial bank based in Nigeria. It is licensed by the Central Bank of Nigeria, the country's banking regulator.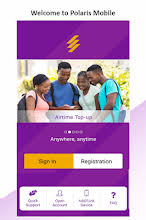 The financial institution boasts millions of customers in Nigeria who are looking for easy ways to bank. As a result, it launched its mobile app.
After installing and registering on the mobile app, you can complete several transactions without the need to visit bank branches.
But to get started, First you must have an active personal account with Polaris Bank. Secondly, your GSM number must be registered to your account in Polaris Bank.
Pay attention >> even after downloading and installing the app, keep reading this guide to discover how to register.
Download Polaris Bank Mobile app
Click on your device OS from the list below to visit and download the latest app from the official portal:
Android OS: Click here to download Polaris Bank mobile app from Google Play Store.
iOS (iPhone, iPad, iPod): Click here to get it from Apple store.
Blackberry OS: The app is currently unavailable on BlackBerry World.
Windows OS: The app is currently unavailable on Microsoft Store.
If the links above do not work, visit your app store and search for the keyword "Polaris mobile".
Note: some of the app stores still use "Skye Mobile", so you might need to search that instead.
How to register for Polaris Bank mobile banking
Download and install Polarismobile on your device.
Open the the app and select sign up.
Read the disclaimer and accept terms.
Enter your GSM number, account number, email address, preferred PIN and preferred password.
An activation code is automatically sent to your mobile number registered with the bank as an SMS message from 'PolarisMobile', '20220' or 'eTranzact'.
Enter the activation code to proceed with your registration.
Create security questions that would be used to access your account if peradventure you forget your PIN.
Note: The default daily transaction limit on the app is N1,000.00. Visit the nearest Polaris Bank branch to increase your limit or ignore if you have done so already.
Things you can do on the app:
Make account balance Enquiry and request for your Statement of Account
Intra-bank Transfer (Polaris to Polaris bank accounts)
Inter-bank Transfer (Polaris Bank to other banks accounts)
Airtime Recharge (any network in Nigeria)
Bills Payment (Pay TV, Electricity Bills, Water Bill, etc.)
Manage your debit cards
Regulate cheque transactions.