Michael Olowokandi: Basketball Player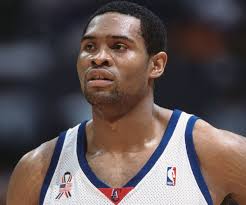 Michael Olowokandi (born 3 April 1975) is a British Nigerian former professional basketball player. Born in Lagos and raised in London, he attended college on a basketball scholarship at the University of the Pacific in Stockton, California, and was the number one pick in the 1998 NBA draft, where he was selected as a centre by the Los Angeles Clippers. He played professionally until 2007.
Olowokandi is considered one of the biggest draft busts in NBA history.
Early years
Olowokandi was born in Lagos; his father was a diplomat. His family moved to London when he was 4. Olowokandi attended the Newlands Manor School in Seaford, East Sussex, where he set England's age group records in long jump and triple jump and also played centre midfield in football. Olowokandi had a height of 6'8 at age 16, growing six inches in two years, and first touched a basketball at age 17. He then entered Brunel University as a mechanical engineering major, where he was an athlete in track and field, cricket, and rugby union, and began playing basketball when he was 18.
College career
In 1995, on Olowokandi's 20th birthday, he opened the Peterson's Guide to American Colleges and Universities and found the school page of University of the Pacific. Olowokandi then called the UOP basketball office in hopes that he would be accepted to play basketball. After being informed that there were no more available basketball scholarships in UOP, Olowokandi offered to pay for his schooling (about $23,000 annually) for two years. He started out in a poor basketball condition but eventually became a star for the team, averaging a team-high 12.6 points, 7.4 rebounds and 1.9 blocks.  During his junior year, he led his team to the 1997 NCAA Tournament and as a senior, he led the Tigers to the 1998 National Invitation Tournament. He averaged 22 points, 11 rebounds, and 3 blocks per game his senior year and was the 1997–98 Big West Conference Player of the Year. He graduated from Pacific with a degree in economics in 1998 and his No. 55 jersey was retired by the university. After his senior year, he was drafted with the first overall pick of the 1998 NBA draft by the Los Angeles Clippers.
Professional career
Because of the 1998–99 NBA lockout, the season in which he was drafted, Olowokandi signed for Italian team Kinder Bologna. With Bologna, in 3 games played, he averaged 4.7 points, 5.7 rebounds, and 0.3 assists per game in 17.3 minutes per game, in the Italian League. With Bologna, he also played in 3 games in the FIBA EuroLeague, where he averaged 10.7 points, 6.0 rebounds, and 0.3 assists per game in 21.3 minutes per game. Olowokandi eventually signed with the Clippers, where he averaged 9.9 points, 8.0 rebounds and 1.6 blocked shots in 30.4 minutes per game in a 323 game stint for five seasons. Afterwards, he signed as an unrestricted free agent with the Minnesota Timberwolves for the 2003–04 NBA season. On 26 January 2006, he was traded to the Boston Celtics in a multi-player trade.
In 500 regular season NBA games (399 games started), Olowokandi averaged 8.3 points, 6.8 rebounds, and 1.39 blocked shots per game. In 15 playoff games (2 starts), he averaged 2.1 points, 3.5 rebounds, and .7 blocks per game. In the 2001–2002 season, Olowokandi saw the most playing time of his career and averaged 11.1 points and 8.8 rebounds. During the last 20 games of that season, he averaged 17 points a game and 11 rebounds and was considered one of the biggest free agents in the 2002–2003 free agency class. He played 36 games in the 2002–2003 season before sustaining an injury that forced him to miss the rest of the season. In his last year with the Los Angeles Clippers, he sustained a hernia and knee injury, which greatly hindered his ability after being listed as a top free agent prospect for the 2002–03 season. He finished that season averaging 12.3 points (on 42.7% shooting from the floor) 9.1 rebounds, 2.2 blocks, and 2.7 turnovers per game. During that offseason, he signed with the Minnesota Timberwolves. His time with the Timberwolves was marked by serious injury and inconsistent play.
The Clippers' drafting of Olowokandi was considered a "bust" as the 1998 NBA draft produced notable players such as Dirk Nowitzki, Paul Pierce, Vince Carter, Antawn Jamison, Rashard Lewis, and Mike Bibby.
Charity
In 2001, Olowokandi and his Clippers teammates participated in the BasketBowl Challenge at Keystone Lanes in Norwalk, to raise funds for the Los Angeles Clippers Foundation and Children's Hospital in Los Angeles.
Career statistics
Legend
  GP
Games played
  GS
Games started
 MPG
Minutes per game
 FG%
Field goal percentage
 3P%
3-point field goal percentage
 FT%
Free throw percentage
 RPG
Rebounds per game
 APG
Assists per game
 SPG
Steals per game
 BPG
Blocks per game
 PPG
Points per game
 Bold
Career high
NBA
Regular season
Year
Team
GP
GS
MPG
FG%
3P%
FT%
RPG
APG
SPG
BPG
PPG
1998–99
L.A. Clippers
45
36
28.4
.431
–
.483
7.9
.6
.6
1.2
8.9
1999–2000
L.A. Clippers
80
77
31.2
.437
–
.651
8.2
.5
.4
1.8
9.8
2000–01
L.A. Clippers
82
82
25.9
.435
–
.545
6.4
.6
.4
1.3
8.5
2001–02
L.A. Clippers
80
79
32.1
.433
–
.622
8.9
1.1
.7
1.8
11.1
2002–03
L.A. Clippers
36
36
38.0
.427
–
.657
9.1
1.3
.5
2.2
12.3
2003–04
Minnesota
43
25
21.5
.425
–
.590
5.7
.6
.4
1.6
6.5
2004–05
Minnesota
62
34
19.6
.456
–
.667
5.2
.5
.2
.9
5.9
2005–06
Minnesota
32
24
23.5
.446
–
.487
5.6
.5
.6
.8
6.0
2005–06
Boston
16
10.4
.444
–
.625
2.6
.4
.2
.4
2.8
2006–07
Boston
24
9.8
.413
–
.667
2.0
.2
.3
.5
1.7
Career
500
393
26.3
.435
–
.597
6.8
.7
.5
1.4
8.3
Playoffs
Year
Team
GP
GS
MPG
FG%
3P%
FT%
RPG
APG
SPG
BPG
PPG
2004
Minnesota
15
2
14.9
.324
.000
.875
3.5
.1
.1
.7
2.1
Career
15
2
14.9
.324
.000
.875
3.5
.1
.1
.7
2.1
College
Year
Team
GP
GS
MPG
FG%
3P%
FT%
RPG
APG
SPG
BPG
PPG
1995–96
Pacific
25
–
10.3
.526
–
.556
3.4
.2
.1
1.3
4.0
1996–97
Pacific
19
–
22.8
.570
–
.333
6.6
.4
.4
1.7
10.9
1997–98
Pacific
33
–
–
.609
–
.485
11.2
.8
.3
2.9
22.2
Career
77
–
15.7
.592
–
.466
7.5
.5
.2
2.1
13.5