Kiki Omeili: Biography, Age, Career, Family And Movies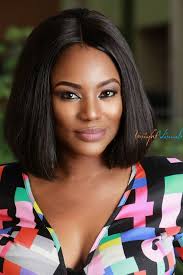 Nkiruka 'Kiki' Omeili is a Nigerian actress, best known for her role as Lovette in the TV series Lekki Wives. She is also known for her role as Blessing in the 2015 crime caper, Gbomo Gbomo Express alongside Gideon Okeke.
Early life
Omeili was born in Lagos, and is the second of four children of Charles and Maureen Omeili. She is ethnic Igbo from Nimo in Anambra State. Her Father Charles was a banker with First Bank Nigeria and retired as a general manager, while her mother Maureen was the Controller of Prisons in Ibadan, Oyo State, Nigeria. Omeili began performing in stage plays all through her primary and secondary school years. This continued when she got into the university as she was a member of the drama club and acted in various productions as well as taking part in several drama competitions. In 2006, she obtained a Medical degree from the College of Medicine, University of Lagos.
Career
In 2011, Omeili auditioned for and got the role of Debbie in the TV series "Behind the Smile". In 2012, she teamed up with the director of "Behind the Smile", Tunde Olaoye, to star in her debut feature film "Married but living single" where she worked with Funke Akindele, Joseph Benjamin, Femi Brainard and Joke Silva. Omeili has had roles in a number of TV series including "The Valley Between", "NESREA Watch", "Lekki Wives" and "Gidi Culture".
Asides from her acting roles, in 2011 Omeili hosted the Dance reality TV show "Dance 234", a Koga entertainment production. Omeili also hosts the health segment on Smooth FM's Saturday morning radio show called "Balancing Life" and writes numerous articles in online blogs.
Kiki Omeili also "emcees" various events and has done voice-overs for projects including LG and the MTN world cup countdown programme in 2009.
In August 2013, it was announced that Lekki Wives would be renewed for a second season, and Omeili's contract was renewed to reprise her role as Lovette.
Early 2016, she starred in the Nigerian Box Office hit; Couple of Days, where her portrayal of the character Joke, got wonderful reviews from critics. In May 2016, Iterum a short film directed by Stanlee Ohikhuare and starring Kiki Omeili and Paul Utomi was premiered at the 69th Annual Cannes Film Festival.
On May 31, 2016, Omeili made her debut as a movie producer, with the release of the Short Film Unprotected. The film is based on true events, which she observed as a medical student in the university. The film features Kiki Omeili, as the lead character, and Eric Didie, Bimbo Ademoye, Blessing Ambrose and Nathan Kingsley in supporting roles.
In June 2018, Omeili began production of her debut full-length feature film, Run, which was directed by Uche Chukwu.
Awards and recognition
In October 2012, Omeili received the award for the 'Best Actress (Supporting Role in an English language film)' at the 17th African Film Awards (formerly known as the Afro Hollywood Awards) in London.
In May 2014, Omeili was listed among the Top 25 New Faces of Nollywood by Nigerian Entertainment Today (NET) Newspaper, she had also been listed by Nigerian tabloid newspaper 'The Sun' as one of Nollywood's fastest rising stars earlier in 2014.
Omeili was nominated for the 'TV Actress of the Year' at the Exquisite Lady of the Year (ELOY) Awards in November 2014. She was nominated for her lead role in the Television series 'Lekki Wives'.
In October 2015, Omeili won the award for the Best Supporting Actress for her role in the Movie – Sting, at the 2015 Global Icons Academy Movie Awards (GIAMA), which held in the USA.
In July 2016, Omeili won the award for Best Supporting Actress of the Year at the 2016 City People Entertainment Awards in Lagos, Nigeria.
In October 2016, Omeili was nominated for Best Lead Actress in a Short Film at the Berlin 2016 – Film Fest International Awards for her role in the film, Deluded.
Omeili, was unveiled as a Festival Ambassador at the 2017 Realtime film festival in recognition of her contribution to the Nigerian film industry.
In 2018, Omeili won the best supporting actress award at the World Music and Independent Film Festival, which held in the Caribbean Islands for her role in the movie 3Some. In the same year, she was also nominated for Best Actress at the Realtime film festival.
Humanitarian Work
Omeili has been involved in humanitarian work with Project Pink Blue. She led their cancer awareness walk, helping the cancer nonprofit raise funds and awareness through social media and events.
Awards
Year
Event
Prize
Recipient
Result
2012
African Film Awards
Best Actress – Supporting Role in an English language film (Married but Living Single)
Kiki Omeili
Won
2014
ELOY Awards
TV Actress of the Year (Lekki Wives)
N/A
Nominated
2015
GIAMA 2015 Awards
Best Supporting Actress – Female (Sting – The Movie)
Kiki Omeili
Won
In-Short Film Festival
Best Actress – Female (Deluded – Short Film)
Kiki Omeili
Won
2016
City People Entertainment Awards
Supporting Actress of the Year
Kiki Omeili
Won
Lagos 30 under 40 Awards
Best Actress – English
Kiki Omeili
Won
FilmFest International Awards (Berlin 2016)
Best Lead Actress in a Short Film
Kiki Omeili
Nominated
Filmography
| Year | Title | Role | Director | Notes |
| --- | --- | --- | --- | --- |
| 2011 | Behind the Smile | Debbie | Tunde Olaoye | Lead Role/TV Series |
| 2011 | Nowhere to be Found | Dr Grace | Niji Akanni | TV Series |
| 2011 | Footprints | Edna | Jerry Isichei | Sub-Lead/TV Series |
| 2012 | Married but Living Single | Titi Haastrup | Tunde Olaoye | Feature Film |
| 2012 | NESREA Watch | Mrs Irabor | Paul Adams | TV Drama/Informative |
| 2012 | Binding Duty | Njide | Ihria Enakimio | TV Drama/Informative |
| 2012 | The Valley Between | Nikki | Tunji Bamishigbin | Sub-Lead/TV Series |
| 2012 | Gidi Culture | Mariam | Tunde Anjorin | Sub-Lead/Series |
| 2012 | A Mother's Fight | Uru | Flo Smith | Sub-Lead/Short Film produced by Uche Jombo |
| 2012 | Lekki Wives | Lovette | Blessing Effiom Egbe | Lead Role/Series |
| 2013 | Kpians: The Feast of Souls | Kiki Ofili | Stanlee Ohikhuare | Horror Movie also starring Ashionye Ugboh-Raccah |
| 2013 | Consenting Adults | Seun | Soji Ogunnaike | Feature Film; starring Nomoreloss |
| 2013 | 24/7 | Barrister Ekanem | Efetobore Ayeteni | Feature Film starring IK Osakioduwa, Eku Edewor and Wole Ojo |
| 2013 | Oblivious | Lucy | Stanlee Ohikhuare | Feature Film |
| 2013 | Lekki Wives (Season 2) | Lovette | Blessing Effiom Egbe | Lead Role/TV Series |
| 2013 | Sting | Ada | Stanlee Ohikhuare | Feature Film |
| 2013 | The Glass House | Ese | Jerry Isichei | Feature Film |
| 2014 | The Antique | Isoken | Darasen Richards | Feature Film starring Olu Jacobs, Bimbo Akintola and Judith Audu |
| 2014 | Same Difference | Nonye | Ehizojie Ojesebholo | Feature Film starring Ricardo Agbor and Daniel K Daniel |
| 2014 | A Dead End | Biola | Ehizojie Ojesebholo | Feature Film starring Barbara Sokky, Seun Akindele and Uche Anyamele |
| 2014 | Next Door to Happiness | Tinuke | Uzodimma Okpechi | Feature Film starring Frederick Leonard |
| 2014 | A Place Called Happy | Teni | LowlaDee | Feature Film starring Blossom Chukwujekwu |
| 2014 | Friends and Lovers | Jenny | Yemi Morafa | Feature Film starring Deyemi Okanlawon |
| 2014 | +234 | Sandra Lawson | Soji Ogunnaike | Drama Series starring Tosyn Bucknor, Tope Tedela and Anthony Monjaro |
| 2015 | Gbomo Gbomo Express | Blessing | Walter Taylour | Feature film – starring Ramsey Nouah |
| 2015 | Jimi Bendel | T-boy | Ehizojie Ojesebholo | Action Comedy film |
| 2016 | Fast Cash | – | Okey Zubelu Okoh | Feature film – starring Mary Lazarus, Oma Nnadi, Funnybone |
| 2016 | Iterum | Ireti | Stanlee Ohikhuare | Short film – screened at the 2016 Cannes Film Festival in Paris, France |
| 2016 | Fast Cash | | Okey Zubelu | Feature film |
| 2016 | Blame It on Me | – | Ikechukwu Onyeka | Feature film |
| 2016 | The Happyness Limited | – | Imoh Umoren | Feature film |
| 2016 | This Thing Called Marriage | – | Blessing Egbe | Feature film |
| 2016 | Moth To A Flame | Joan | One Soul | Feature film – Femi Jacobs, Shaffy Bello, Paul Utomi |
| 2017 | Echoes of Silence | – | Okey Ifeanyi | Feature film |
| 2017 | Low lives and High Hopes | – | Frankie Ogar | Feature film |
| 2017 | Light in the Dark | – | Ekenem Ekwunye | Feature film |
| 2017 | What Lies Within[29] | Miss Dimeji | Vanessa Nzediegwu | Feature film starring Michelle Dede, Tope Tedela, Paul Utomi |
| 2017 | Sunday and Lolade | – | Yomi Black | Comedy Skit Compilation |