Iretiola Doyle: Biography, Age, Career, Family And Movies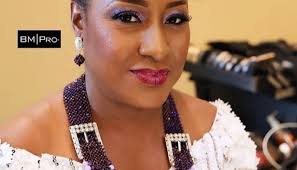 Iretiola Doyle (born Iretiola Olusola Ayinke) is a Nigerian actress.
Early life and education
Iretiola was born on the 3rd of May 1967 in Ondo State but spent her early years with her family in Boston, United States. After returning to Nigeria, she attended Christ's School Ado Ekiti and graduated from the University of Jos with a degree in Theatre Arts.
Career
In a career that has spanned two decades in the Nigerian entertainment industry, her credits cut across stage, television and film and print. An accomplished writer, actor, producer and presenter; Iretiola Doyle was born on the 3rd of May in Lagos Nigeria and in the course of her life has lived in New York, Boston, Jos and Lagos. She also produced and presented her own fashion and lifestyle show titled Oge With Iretiola for ten years and at different times anchored several A-list television shows, like Morning Ride, Today On STV and Nimasa This Week on Channels TV. She is a writer and has several screen plays to her credits Amaka Igwe's Tempest (Season 1) being one of them. Iretiola Doyle is an avid social commentator who at different times penned the popular columns; Shooting Breeze in City People and In The Chat Room in the Gliteratti pull-out of This Day Newspaper and Tiola's Take in the Saturday Vanguard. She has been nominated once in the Best Actress category at the Reel Awards in 1998 for her role in the movie All About Ere and twice in the Best Actress in a Supporting Role category at the AMAA Awards in 2007 and 2009 for her roles in Sitanda and Across The Niger respectively and was declared Best Actress in a lead role at the GIAMA Awards in Houston Texas in 2013, and Best Actress in a lead role at the 2014 Nollywood Movie Awards for her portrayal of Ovo, in the psychological thriller Torn. This performance also earned her an African Magic Viewers' Choice Awards Nomination for Best Supporting Actress in 2015. Most recently she has been nominated at the 2016 Africa Movie Academy Awards in the Best Actress In A Leading Role category for her portrayal of Dr Elizabeth in Ebony Life Films' blockbuster 2015 hit; FIFTY. Iretiola Doyle's acting CV also includes the critical darling The Arbitration and The Wedding Party, which is the highest-grossing Nigerian film in Nigerian cinema history (as of February 2017). Both films screened at the 2016 Toronto International Film Festival as part of the city to city spotlight. Others include Dinner and Madam President. On television, she has created memorable characters on hit shows like Fuji House Of Commotion, Dowry, and Gidi Up. Iretiola currently stars as the enigmatic Sheila Ade-Williams in the MNET television series Tinsel. Iretiola Doyle will be reprising her role as Dr Elizabeth in the upcoming Fifty TV series. Her most recent stage credits include The Vagina Monologues, Olorounbi The Musical and Hear Word and The Wives. Described as an 'actor's actor' by her peers, she is known for pitch-perfect performances.
Personal life
She is married to Patrick Doyle and has six children
Selected filmography
Film
Across the Niger
Sitanda
Torn
The Therapist (2015)
Fifty (2015)
The Arbitration (2016)
The Wedding Party (2016)
Dinner (2016)
The Wedding Party 2 (2017)
Merry Men: The Real Yoruba Demons (2018)
Television
Tinsel
For Coloured Girls (2011)
Gidi Up (2014–present).
Note
 For Colored Girls shouldn't be confused with Tyler Perry's 2010 film of the same name. It is actually the Nigerian adaptation of the American stage play, For coloured girls who have considered suicide / when the rainbow is enuf.