Ime Udoka: Basketball Player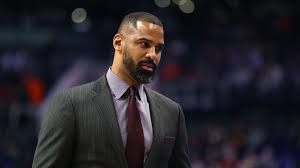 Ime Sunday Udoka (born August 9, 1977) is a Nigerian-American former professional basketball player and current assistant coach for the Philadelphia 76ers of the National Basketball Association (NBA). He played internationally with the Nigeria national basketball team.
Career
Udoka, a small forward, attended Portland's Jefferson High School, and the University of San Francisco, before transferring to Portland State University where he starred for the Vikings. He started his professional basketball career by playing in the NBDL with the Charleston Lowgators who drafted him with 39th overall pick in 2002 NBDL Draft. He was called up to play with the Los Angeles Lakers on January 14, 2004, but was later waived. After a stint in Europe, he returned to the states and once again drafted in NBDL. This time he was drafted 3rd overall by Fort Worth Flyers in 2005 NBDL Draft. He averaged 17.1 points and 6.2 rebounds per game with the Flyers. On April 6, 2006, Udoka was signed by the New York Knicks. Udoka was waived by the Knicks on September 11, 2006.
Udoka was the last player invited to his hometown Portland Trail Blazers training camp before the 2006–07 season, getting the invite-only after Aaron Miles failed a physical. Despite the death of his father during the preseason, Udoka impressed the coaching staff with his defence and professionalism, and improbably, made the team. After having played in only 12 NBA games in his career, Udoka started in 75 games played in the 2006–07 season. He played 28.6 minutes per game while averaging 8.4 points, 3.7 rebounds, and 0.9 steals.
In 2007, Udoka signed a contract with the San Antonio Spurs. He played in 73 games averaging 5.8 points and 3.1 rebounds in 18 minutes. On his second season with the Spurs, Udoka played in 67 games and started in three. He averaged 4.3 points and 2.8 rebounds in 15.4 minutes.
Following the 2009 season, Udoka became a free agent, eventually re-signing with the Trail Blazers. He was waived by the Blazers on October 22, 2009, but signed with the Sacramento Kings on November 4, 2009. He played 69 games with the Kings, averaging 3.6 points and 2.8 rebounds in 13.7 minutes.
On November 24, 2010, Udoka rejoined the Spurs, but he was waived on January 5, 2011, after playing only 20 games.
On December 15, 2011, Udoka signed with the New Jersey Nets. However, he was waived on December 23, 2011.
In January 2012 he signed with UCAM Murcia, a team in the Spanish ACB League.
In August 2012, Udoka joined the San Antonio Spurs as an assistant coach. Udoka would win his first championship after the Spurs defeated the Miami Heat in the 2014 NBA Finals 4 games to 1.
Udoka was also the key for LaMarcus Aldridge's decision to join the Spurs in 2015. Both Udoka and Aldridge played together with the Trail Blazers during Aldridge's rookie season.
In June 2019, Udoka was hired as an assistant coach of the Philadelphia 76ers.
Personal life
Udoka's father, who is of Akwa Ibom descent, was born in Nigeria, which qualified Ime for Nigerian citizenship. He was a member of the Nigerian basketball squad, for whom he played at the 2006 FIBA World Championships. His older sister Mfon used to play in the WNBA. His mother, who died in late 2011, was an American from Illinois.
In November 2011, Udoka's then-girlfriend, Nia Long gave birth to their first child, Kez Sunday Udoka. The couple became engaged in May 2015.
NBA career statistics
Legend
  GP
Games played
  GS
Games started
 MPG
Minutes per game
 FG%
Field goal percentage
 3P%
3-point field goal percentage
 FT%
Free throw percentage
 RPG
Rebounds per game
 APG
Assists per game
 SPG
Steals per game
 BPG
Blocks per game
 PPG
Points per game
 Bold
Career-high
Regular season
Year
Team
GP
GS
MPG
FG%
3P%
FT%
RPG
APG
SPG
BPG
PPG
2003–04
L.A. Lakers
4
7.0
.333
.000
.500
1.3
.5
.5
.2
2.0
2005–06
New York
8
14.3
.375
.333
.500
2.1
.8
.1
.
2.8
2006–07
Portland
75
75
28.6
.461
.406
.742
3.7
1.5
.9
.2
8.4
2007–08
San Antonio
73
18.0
.424
.370
.759
3.1
.9
.8
.2
5.8
2008–09
San Antonio
67
3
15.4
.383
.328
.609
2.8
.8
.5
.2
4.3
2009–10
Sacramento
69
2
13.7
.378
.286
.737
2.8
.8
.5
.1
3.6
2010–11
San Antonio
20
6.5
.238
.000
.500
.9
.7
.4
.
.7
Career
316
80
18.1
.417
.356
.705
2.9
1.0
.7
.2
5.2
Playoffs
Year
Team
GP
GS
MPG
FG%
3P%
FT%
RPG
APG
SPG
BPG
PPG
2008
San Antonio
16
14.8
.465
.400
.714
2.9
1.1
.7
.1
5.4
2009
San Antonio
5
20.8
.350
.125
.400
4.6
.8
.8
.2
3.4
Career
21
16.2
.440
.354
.583
3.3
1.0
.7
.1
5.0