Biography Of Pastor David Oyedepo Jnr.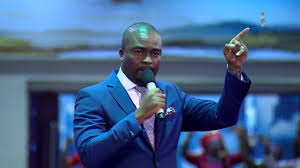 Pastor David Oyedepo Jnr is the first son of Bishop David Oyedepo, the founder and general overseer of Living Faith Church Worldwide (a.k.a. Winners Chapel)
1. The month of May is the Liberation Month while the Mandate itself was delivered between May 1 and 2. Interestingly, as the month ends, the next day and month-June 1st is the birth date of David Jr.
2. When his father, Bishop Oyedepo inquired to know the name of the newly born son, according to him, God told him that "Another Warrior has come". This led to the name 'Oluwamakinde ' (God has brought victory).
3. David Jr had a humorous birth. His parents got married on August 30th 1982. Check this out…the month had ended. Let's count…September-1, October-2, November – 3, December – 4, January-5, February – 6, March-7, April-8, May-9. David was born on June 1…Exactly 9 months after the wedding.
4. Born David Olumakinde Oyedepo (Jnr)) in June 1983, the same year the LFC was commissioned (Sept 83) and the first service held in Kaduna- December 11, 1983. Interestingly, exactly 30 years to that day, December 11, 2013, David preached his first message at Shiloh. Shiloh 2013.
Image may contain: one or more people
5. David Jr is an Alumni of both Oral Roberts University (ORU) and Oklahoma Christian University.
6. David Oyedepo Jr was ordained together with his brother in May 2007 by Dr Kenneth Copeland
7. He was married to Kemi Oyedepo (nee Olubu) in July 2008. The Minister at the wedding was Matthew Ashimolowo of KICC. Kemi is the founder of Crisis-Proof Your Family (CPYF) a major ministry aimed at ensuring successful marriages and families.
8. Pastor Makinde preached his first message at Faith Tabernacle on March 24th 2013, the day after his grandmother's burial. He was introduced by Bishop David Abioye as the 'next generation'.
9. In 2004, David became the youngest member of the Covenant University Board of Regents (the governing council).
10. Pastor David was formerly the Regional Pastor of LFC European Region. He oversaw the growth of the church and established the first Kingdom Heritage Model School of the commission outside the shores of Africa.
11. In August 2016, Bishop Oyedepo and Mummy Faith Oyedepo went on vacation. Pastor David Oyedepo Jr then ministered in 5 services on Sunday at Faith Tabernacle. It was the first time anyone aside Bishop Oyedepo would do that.
12. David Oyedepo is the youngest Vice President of the Living Faith Church. There are 4 other Vice Presidents.